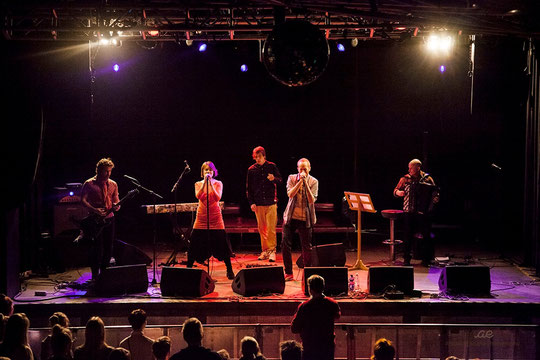 Kiitokset kaikille teille jotka tulitte Reviven tukikonserttiin Nosturiin 9.4. Estación Cariben projektin rahoitus on ollut pitkä prosessi joka alkoi joulukuussa 2012 kun saimme kuulla että pääsemme Mesenaatti-palvelun pilottiprojektiksi. Olemme saaneet paljon apua erilaisilta ihmisiltä, joita haluaisimme tässä yhteydessä kiittää. Mutta sitä ennen haluamme välittää Estación Cariben sydäntä lämmittävät kiitokset, joista osan luimme Tukikonsertissa ääneen.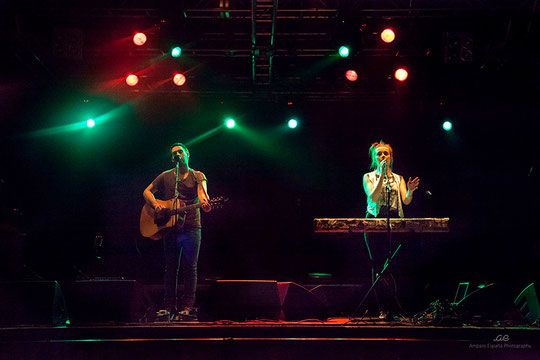 "Sanotaan että unelmoiminen on helppoa eikä maksa mitään, mutta harvat rohkeat uskaltavat hypätä jyrkänteeltä täyttääkseen unelmansa ja tehdä niistä todellisuutta. Me päätimme tavoitella unelmiamme, vaikka meille naureskeltiin ja meitä pilkattiin, kutsuttiin hulluiksi. Ehkä se on ainoa tie jonka kautta voimme jättää jälkemme ja ymmärtää itse mitä teemme.

Halu, luovuus ja rakkaus muuntuvat positiiviseksi energiaksi, se on materiaalia jolla ihmiset voivat rakentaa jotain kaunista. Se on kierre jossa kaikki ovat mukana, positiiviset teot lisäävät positiivisia tekoja.

Vaikka yksi haasteistamme on saada musiikkimme koko maapallon korviin, ymmärrämme että on loogista päästä ensin paikallisten korviin. Meille on suuri yllätys ja olemme hyvin ylpeitä että niin kaukana kuin Suomessa, ihmiset haluavat auttaa meitä. Se antaa meille tärisyttävän riemuntunteen.

Tänään Suomi ei ole meille enää vain nimi, paikka jossa olisi kiva käydä. Nyt se edustaa meille unelmaa, se on synonyymi ilolle ja kannustukselle. Sellainen on myös kaupunkimme Medellín joka antaa meille voimaa nousta ja taistella unelmiemme vuoksi.
Kaikkien Estación Cariben muusikoitten puolesta kiitämme teitä aivan kaikesta mitä olette tehneet meidän vuoksemme. Olemme hyvin etuoikeutettuja siitä että monet ihmiset kokoontuvat auttamaan meitä ja työskentelemään kanssamme vain tekemisen ja auttamisen halusta. Tämän vuoksi tunnemme että olemme osa sellaista maailmaa jossa ei ole rajoja, jossa kaikki ovat samanarvoisia, kielestä, mielipiteistä ja niistä kilometreistä ja meitä erottavasta vedestä huolimatta.
Ette voi tietää kuinka onnellisiksi tunemme itsemme joka kerta kun ajattelemme että hyvin pian meillä on oma musiikillinen työ, jossa ovat kaikki ne laulut joita olemme soittaneet näitten vuosien aikana, vihdoinkin ne ovat levyllä, joka on alkupiste kaikelle sille mitä voimme saavuttaa. Kiitos teille, miljoonat ja miljoonat ihmiset ei-niin-kaukaisessa tulevaisuudessa kuuntelevat levyämme. Toivomme että se kaikuu kuuntelijoissa, jotta hekin jatkaisivat oppimista, rakentamista ja unelmoimista kuten me.


Vielä kerran kaikkien Estación Cariben jäsenten nimissä ÄÄRETTÖMÄT KIITOKSET."
Pari kääntäjän huomautusta:
Kolumbiassa asuu n. 45 miljoonaa ihmistä, joten miljoonat kuulijat Estación Caribelle ei liene mahdottomuus.
Kolumbialaisten on yleensä vaikeaa saada viisumia ulkomaille matkustamiseen, siksi tunne yhtenäisyydestä jonka olemme onnistuneet luomaan tuntuu erityisen hienolta saavutukselta.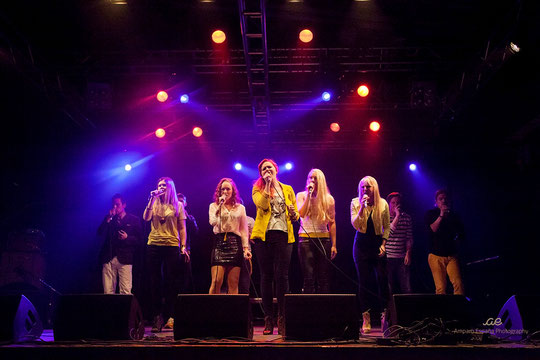 Sitten omat kiitoksemme:
Mesenaatti.me Kiitos että saimme olla pilottiprojektinanne.
Kaikki te jotka rahoititte Mesenaatin kautta Kiitos uskostanne meihin ja kannustuksestanne. Jokainen pisara auttoi meitä eteenpäin ja todisti meille että olemme oikeilla jäljillä.
Leevi Laasonen Kiitos videoinnista, tsemppauksesta, editoinnista.

Venla Saari T-paita designista, jota ihasteltiin Tukikonsertissa runsain mitoin.
Ihmeelliset ihanat muusikot: Emma Salokoski, Tommy Lindgren, Felix Zenger, Eva & Manu, Lauluryhmä PopUp, Jarmo Saari ja Niko Kumpuvaara Olitte aivan mahtavia, ilman teitä koko rahoitushankkeesta ei olisi tullut yhtään mitään!
Tuulianna Tola Kiitos konsertin juontamisesta.
Elmu ry. Kiitos Nosturista, jonka saimme käyttöömme konserttia varten, kiitos myös tsempistä ja tuesta. Eeka & Kipsu, you rock!

Paulig Kiitos luottamuksestanne ja tuestanne. Ilman teitä emme olisi onnistuneet.
Clear Channel ja Pop Media Kiitos mainostilan lahjoituksesta.
Karma Shop Kiitos viestin levittämisestä, tsempistä ja kilpailusta.

Amparo España Kiitos valokuvauksesta.
Tuomas Kettunen ja Ravintola Perho Kiitos maittavista sapuskoista jotka valmistitte ja lahjoititte Tukikonserttiin artisteja varten.
Diego Gomez kiitos avustasi logistiikan kanssa.
Michelle Kaila, Stefania Perez Kiitokset avustanne konsertin käytännön järjestelyissä.

Konserttiyleisö Kiitos että tulitte ja teitte illasta unohtumattoman.
Ihan jokainen teistä joka jollain tavalla auttoi meitä. Jakamalla linkkiä Facebookissa, kertomalla meistä kavereillenne, Kiitos kiitos kiitos!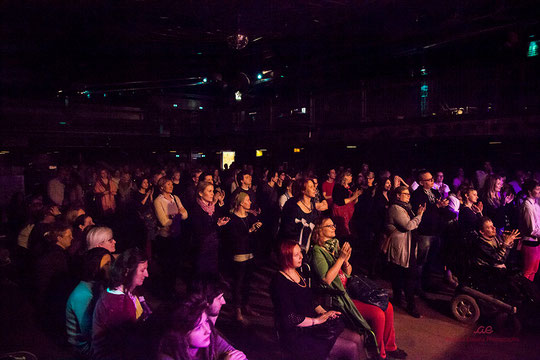 Big Thanks to all of you who came to Revive Support Concert (Nosturi 9th of April 2013). The funding of Estación Caribe project started in December 2012 when we found out we were accepted as one of the pilot projects of Mesenaatti.me, the first Finnish crowd funding platform. Since that we have received a lot of help from various people who we would like to thank. But before that we will transmit the heartfelt thanks of Estación Caribe.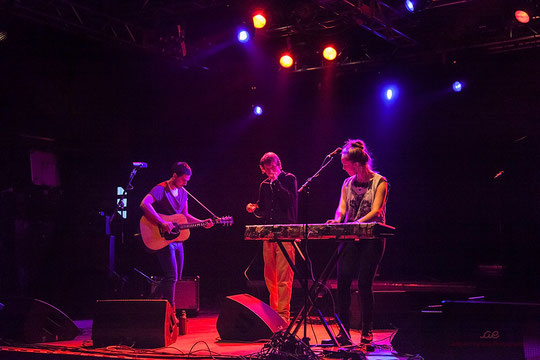 " There is a saying in Colombia: dreaming doesn't cost anything. But few corageous people dare to jump from a cliff to fulfill their dreams, make them into reality. We decided to go for our dreams, even though we were laughed at and mocked, we were called crazy. Maybe that was the only way we had to take to be able to leave a mark and understand ourselves what we are doing.
Desire, creativity and love can transform into a positive energy. It's material people can use to build something beautiful. It is a cycle in which everybody is involved. Positive actions create positive actions.
Even though one of our challenges is to get our music into the ears of the whole planet, we understand that the most logical way is to start from the ears of the local people. It is a great surprise for us, and we feel very proud that in a place as far as Finland there are people who want to help us. It gives us a feeling of trembling joy. 

Today Finland is no longer only a name for us, a place we would like to visit. Now for us it is a representation of a dream, a synonym of joy and encouragement. Such is also our city Medellín, which gives us strength to raise and fight for our dreams.
From all the members of Estación Caribe we thank you for every single thing you have done for us. We are very priviledged that many people get together to help us and to work with us, just because of their desire to do so. That's why we feel that we are part of a world without borders, where every one is equal despite language, opinion or the kilometers and ocean between us.
You cannot know how happy we feel ourselves every time we think that very soon we will have our own musical work, which will have all those songs we have been playing during these years. Finally we will have them on a CD, which is the beginning of everything we can reach. Thanks to you, millions and millions of people in the not-so-far-away future will listen to our album. We hope that it will echo in the listeners, so that they would also continue learning, building and dreaming like we do.
One more time from all the members of Estación Caribe: Infinite Thanks!"
A note from the translator:
Colombia has about 45 million inhabitats, so millions of listeners for Estación Caribe is not a impossibility.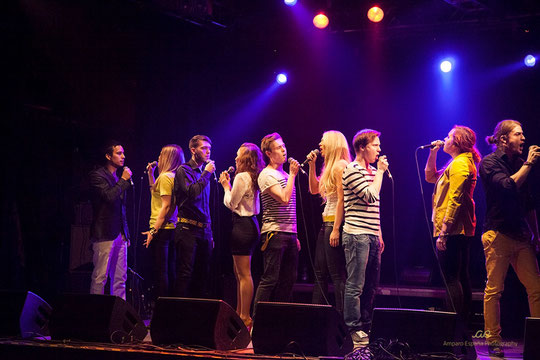 Here comes our set of Thanks:
Mesenaatti.me Thank you for letting us be one of your pilot projects. 
All of you who funded through Mesenaatti Thank you for your faith in us and your suport. Every drop helped us and proved us we are on the right track. 
Leevi Laasonen Thank you for filming, couching and editing.

Venla Saari Thank you for the T-shirt design which was highly appreciated in the concert. 
Wonderful miraculous musicians: Emma Salokoski, Tommy Lindgren, Felix Zenger, Eva & Manu, Lauluryhmä PopUp, Jarmo Saari and Niko Kumpuvaara You were just awsome, without you we wouldn't have succeeded at all!
Tuulianna Tola Thank you for being the host of the concert.
Elmu ry. Thank you for Nosturi, the place we held the concert. Thank you also for coaching and support. Eeka & Kipsu, you rock!

Paulig Thank you for your trust and support. Without you we wouldn't have made it. 
Clear Channel ja Pop Media Thank you for donating us advertisement space. 
Karma Shop Thank you for spreading the message, couching and the competition.

Amparo España Thank you for the photos.
Tuomas Kettunen and Restaurant Perho Thank you for the delicious food you cooked and donated for the artists in the Support concert. 
Diego Gomez Thank you for your help with the logistics. 
Michelle Kaila, Stefania Perez Thank you for your help in the concert arrangements.

Concert audience Thank you for coming and making the night unforgetable. 
Each and every one of you who helped in some way. Sharing the link on Facebook, telling about us to your friends. Thank you, thank you, thank you!